On Press
Soft Touch Laminate: A Premium Finish with a Velvet Feel
So much more than a finish, Soft Touch laminate gives your online printing projects a sensory element that's anything but ordinary. Premium and protective, it enhances print marketing and personal designs with an unexpected feel that yields extraordinary results. Velvety smooth, Soft Touch laminate excites the senses and the sales.
Insider Tip: Formerly listed under the Coating dropdown on our product pages, Soft Touch laminate can now be found under the Laminating dropdown. Simply select it there to add it to your project.
Highly-professional, Soft Touch laminate is thicker than a coating and ideal for print pieces with thick paper stocks (we recommend 80# cover stock up to 18pt cardstock). The moment you feel it, its uniquely tactile experience becomes immediately evident. Exceptionally suede-like, a Soft Touch finish adds undeniable dimension to any design.
Not only does Soft Touch up the aesthetic of your custom print pieces, but also the durability. A protective finish as much as a professional one, Soft Touch's tear-resistant nature ensures your print pieces stand up to daily usage and handling – it even shields ink from scratches and helps prevent it from cracking.
Creator Chloé Elimam added Soft Touch to personalized postcards. "[Customers] say it's pretty, and then they pick it up, and all of a sudden they say, 'Oh, wow! It's soft!' I love that Smartpress not only has given me beautiful prints with vibrant colors, but that people get that extra sensory enjoyment, as well."
"We love how it adds an additional level of tangible polish." 
So, what can you design with this luscious laminate? How about a Soft Touch postcard like Elimam's? Or a booklet with a Soft Touch cover? Maybe you add it to a plethora of printed pieces, like Eric Grossnickle, creative director of 45 North Vineyard & Winery. "We use Soft Touch on most projects and love how it adds an additional level of tangible polish," he said.
Check out some Smartpress products that love this laminate:
Soft Touch can be applied to the covers of booklets for extra protection and a pleasing feel. With Perfect Bound Books, it helps protect the spines from cracking but can only be applied to the outside of a cover (since there's glue on the inner spine securing the pages).
Foil Business Cards & Foil Greeting Cards
Soft Touch is automatically applied for optimal adhesion of the foil to the print piece (with a layer of ink, then a layer of lamination, another layer of ink and finally foil).
Custom Business Cards
Soft Touch protects against wear and tear in a wallet, plus the unique feel sets you and your brand apart.
Invitations, Cards & Bookmarks
Soft Touch creates an impressive, high-end feel for these high-touch print items.
Marketing Collateral (package inserts like Rack Cards & Sell Sheets)
The aesthetic grabs attention due to the professional and high-quality texture.
As a world-class online printer, Smartpress leads the industry with features like Soft Touch, and it hasn't gone unnoticed. Just ask Courtney Kassner, owner and designer of Crew + Co. "Our clients and customers are always very impressed with the quality [and] really love Soft Touch!"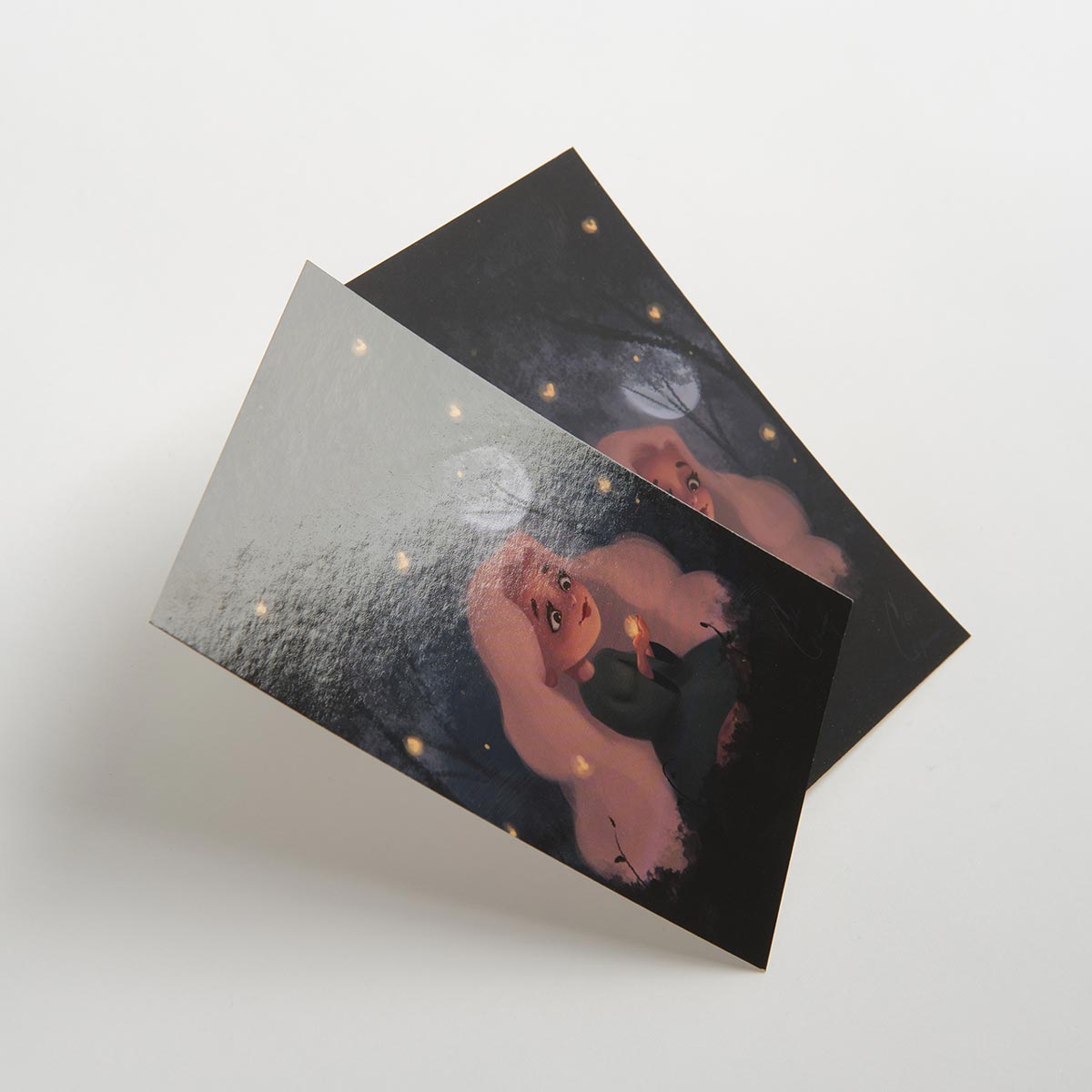 Ready to put the finishing touch on your print piece? Consider these design tips before you do:
If you want to skip the tactile element but still want the protection, try our ultra gloss or flat matte UV coatings. Shielding your pieces from wear and tear just like Soft Touch, UV coatings also offer a different look. Choose ultra gloss to flaunt maximum depth and color or flat matte for a rich finish without shine.
Choose one-sided Soft Touch for greeting cards and invitations, so you can write on the unlaminated side. Go two-sided for marketing collateral to double the textural intrigue and protection.
While Soft Touch elevates many products, it also doesn't play well with some others. Opt out of this finish when:

You want to write on your piece. Pen ink will separate when applied to Soft Touch, so choose one-sided lamination and write on the other side.
Your piece has more than two folds. Soft Touch doesn't allow multiple folds to lay flat.
You're printing on text weight paper. Soft Touch works best with thicker cover weights.
You have direct mailers without envelopes. Soft Touch cannot be sent through mail processing machines.
You're using Collated Printing to create decks of playing cards. The texture doesn't shuffle efficiently.
You want to print reusable restaurant menus. Soft Touch is not washable.
Hint: Check out other premium services we offer:
FEATURED DESIGNS
Southpaw Collective Business Card Design by Brian Faulkenberry
Postcard Design by Chloé Elimam
Brochure Design by Eric Grossnickle, 45 North Vineyard & Winery
Perfect Bound Book Design by Kiri Østergaard Leonard
Square Back Saddle Stitch Booklet: Photographer: Will Strawser, Designer: Alex Szpakowski
Foil Greeting Card Design by Nicole Bullock
DBL FEATURE Business Card Design by Laura Hammonds