Features
Variable Data Printing: How to Personalize Your Marketing
Marketing is all about the message. But how do you create one that connects with target audiences and turns browsing into buying? Personalize it! Variable Data Printing lets you tailor specific text and imagery to individual recipients not only on your marketing assets, but also personal invitations, RSVPs and more. With VDP, ensuring engagement is easy.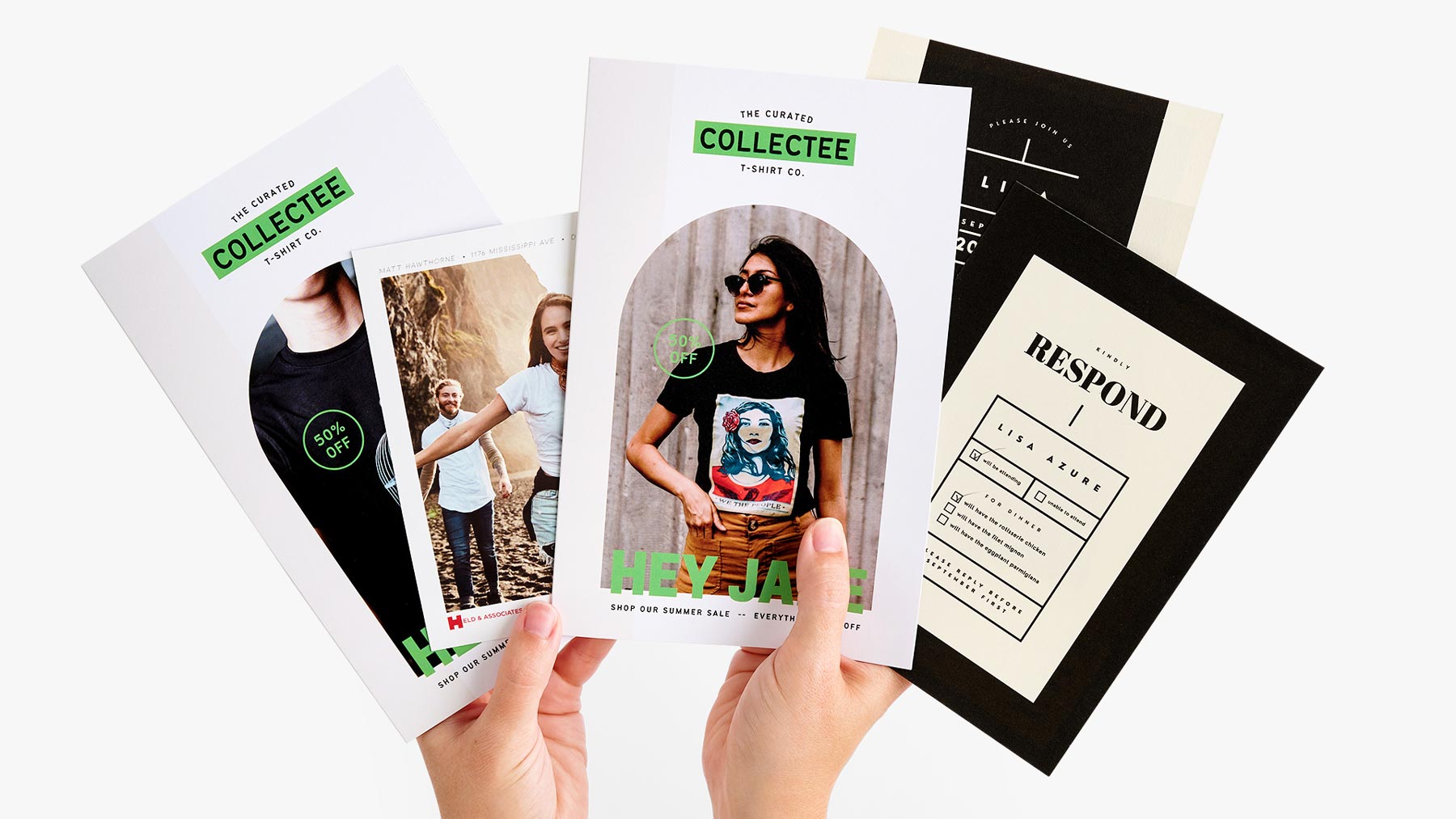 Personalized Print Marketing
For small business owners and large companies alike, a print marketing strategy takes time, effort and money. Luckily, online printing with variable data at Smartpress pays off on all those fronts – and it's available on almost all of our small format products.
What's small format, you ask? We're talking booklets, brochures, business cards, stationery, menus, direct mail, rack cards… it's a long list. Basically anything that isn't a sign, banner or poster. And since our small format products all come with paper stock, weight and coating options, you get to tailor both your message's design and its delivery.
(Hint: Confused? Just look for the Variable Data Personalization dropdown on each product page. If it's there, VDP is available on that product. If it's not there, it's not available.)
Variable Marketing Mailers
Let's get down to some variable data printing examples. With marketing materials, the more specific you can be, the better. Thus, the more convenient and customized it is for your client (or potential new one), the better.
If you're sending customers information about their rewards points, make sure to include their loyalty ID on the postcard so they don't have to look it up. Or add a specific QR code that takes them straight to their membership details. That's VDP.
(Hint: New to the QR code game? We can generate them for you! All you need to provide is the data you want contained within the QR code. When you add your product with variable data to your cart, just click on "Notes" and let us know you'd like a QR code on each piece. We'll do the rest!)
Other common tactics you'll want to employ range from basic things like listing the recipient's name on your self-mailer to more complex (and more rewarding) things like tiered discounts and promo codes based on how much each customer has spent.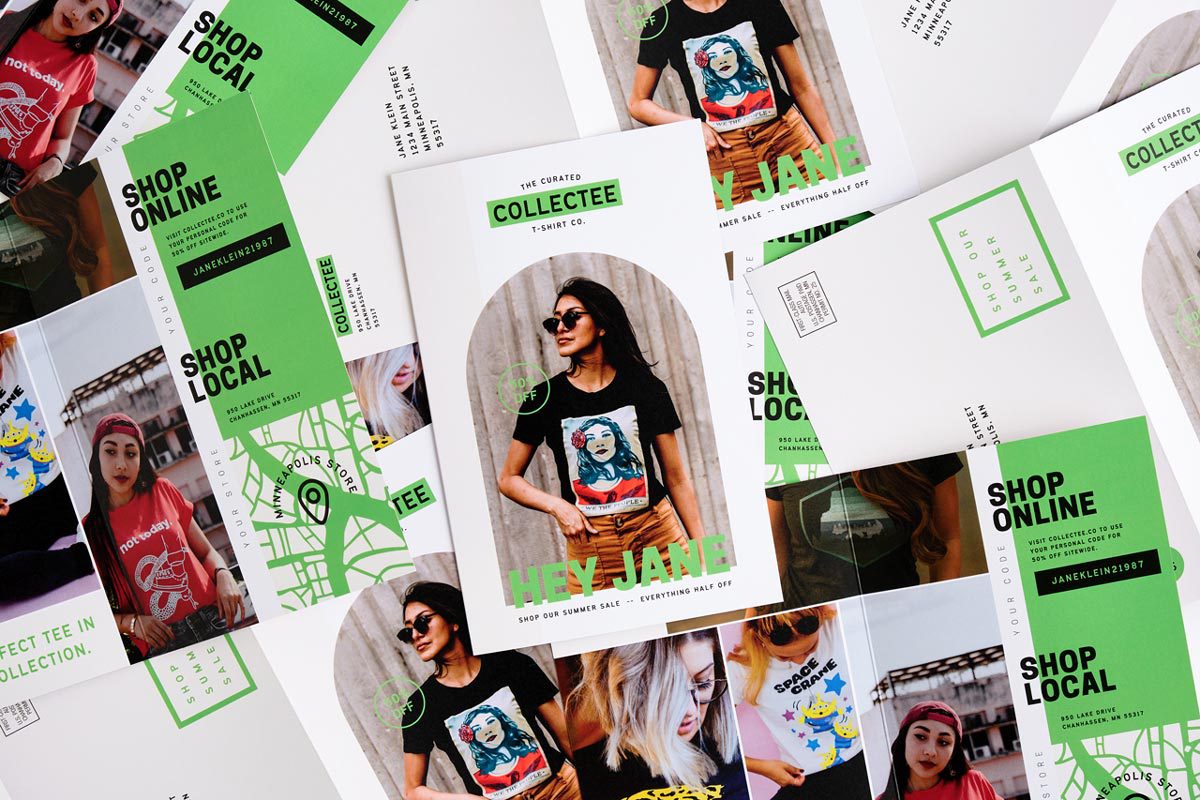 One of our favorite ways to use VDP is showing items the customer has previously bought and offering "You Might Like" products based on their purchase history. It doesn't get more specific than that!
VDP comes in handy for housekeeping information, too. If you have multiple locations, this feature makes it easy to change your contact info, seasonal imagery, regional phrases and more on mailers for each area.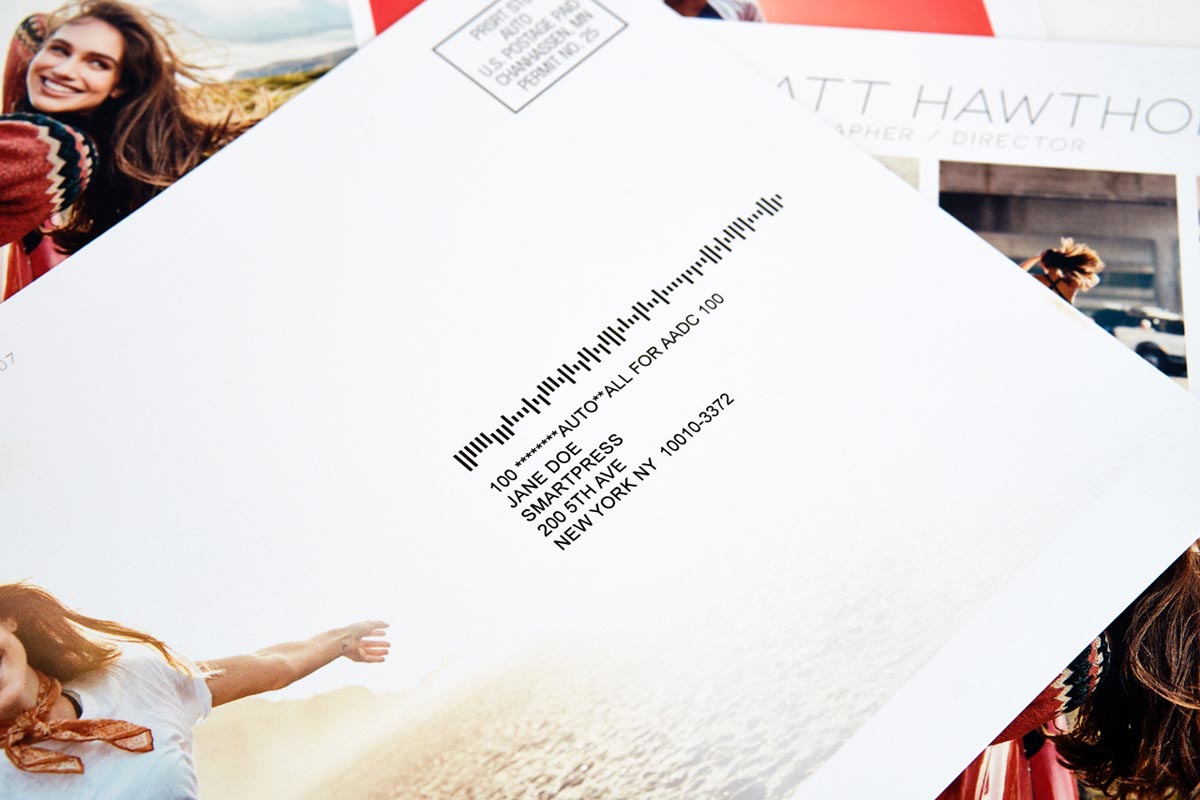 While variable data printing can do tons of fun personalization on print pieces, addressing mailers and envelopes using VDP is a necessity for business printing.
As a premium online printer, Smartpress' variable data printing services give you a couple addressing options. Depending on the Smartpress product, you can choose variable data addressing or do variable addressing with list processing. Let's break down the two options:
Variable Data Addressing:

We print variable names and addresses in your design's address field.
You supply the address file.
We bulk-ship the pieces to you.
You affix your own postage and deliver to your local post office.
Variable Data Addressing with List Processing:

We print variable names and addresses in your design's address field.
List processing includes Coding Accuracy Support System (CASS) certification, sorting and National Change of Address (NCOA). We basically "clean" your list.
Your order is shipped to you via UPS for you to deliver to the post office.
Postage is not included.
With either option, VDP does the work for you so you can focus on other things, like tracking the response rate of your mailers and gauging your next ROI.
Hint: Want us to mail them for you? Want more mailing help? As a full-service online printing shop, we can do both: About Direct Mail.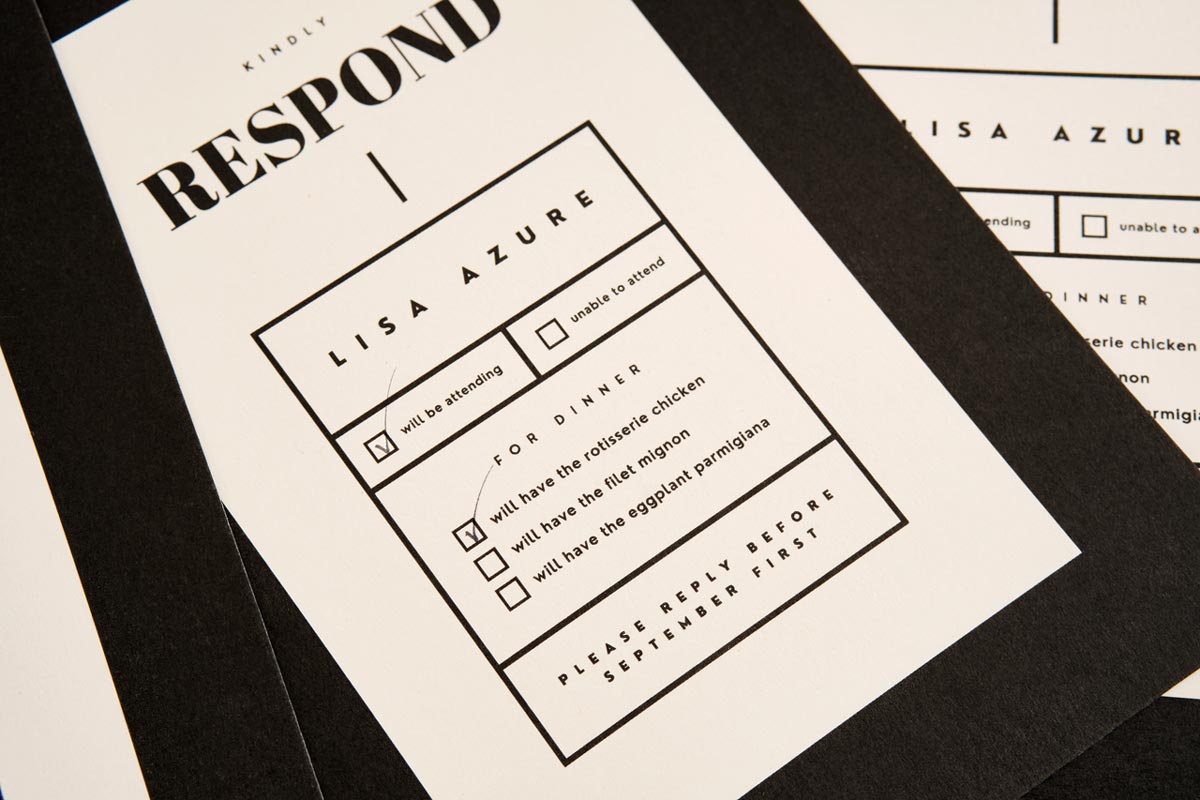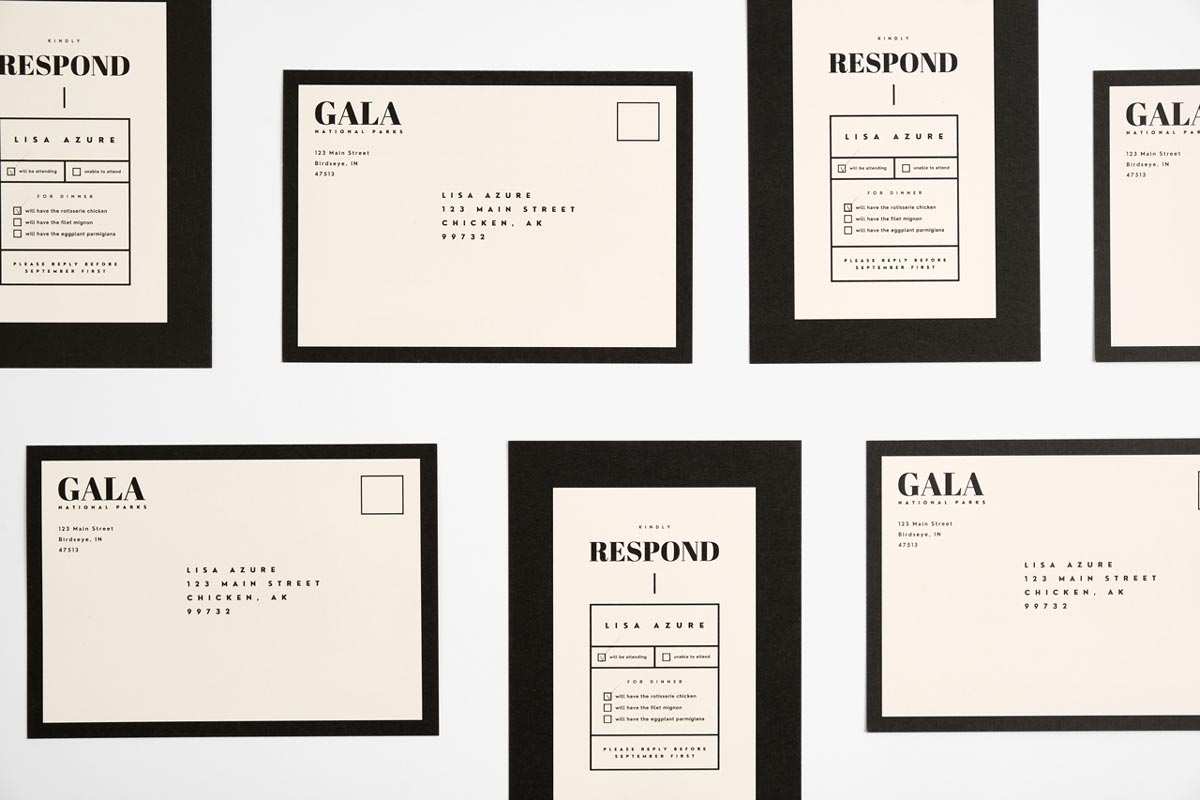 Print Invitations with Variable Data
Not in the marketing game? Don't have anything you need to print for a business? What about custom invitations? Designing some creative RSVPs? Then variable printing is for you, too.
As we mentioned, you can use variable data personalization for envelopes, but you can take it even further with the actual invites themselves. Add each recipient's name, preprint response cards so they have less to fill out, add personal details or specific messages to friends and family.
As for those corporate invitations and nonprofit events, personalize each one with thank you messages or call-outs about individual projects and accomplishments. It's a small touch that builds stronger relationships and connections with employees, donors and sponsors.
Hint: Need table place cards for your wedding or gala? Use VDP! Personalizing your place cards with each guest's name and table number adds a professional touch and simply makes guests feel special.
Ready to personalize your print? Check out these tips for how to print variables with our online printing services:
Be sure to check your character length and reduce your font size to accommodate the text.
Send us the font used in the VDP area to ensure your order gets to press quickly.
Send us separate print-ready files:

One image file showing where you'd like the VDP.
One image file without the text.

Use a spreadsheet template for your personalization data – it's the easiest way to keep your content organized.
Provide data files in the recommended format for online printing or let us do your file prep for you for an additional fee.
Hint: Like VDP? Check out some of our other specialty printing features: